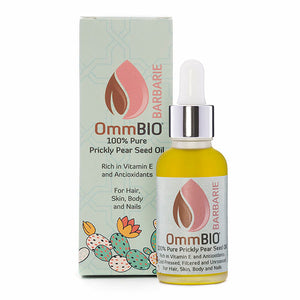 OmmBIO
OmmBIO® BARBARIE 30ml | Organic Prickly Pear Seed Oil, 100% Pure and Organic
Sale price Price €35,00 Usual price Unit price / by
21% VAT included. 3.99 will be added
Shipping costs
. Free for orders of 30 or more..
OmmBIO ® BARBARIE is an organic prickly pear seed oil, 100% pure and of ecological origin from the first cold pressing of the prickly pear seed. This pure oil for cosmetic use is produced in Morocco from the seed of the prickly pear cactus, also known as barbarism in French, hence its name.
Prickly pear seed oil provides, thanks to its purity and high concentration of phytosterols, vitamin E, vitamin K, linoleic acid (vitamin F) and Omega 3, 6 and 9, an ultra effective solution to wrinkles and expression marks , dark circles, brittle hair and brittle nails. Experts say that its rejuvenating and strengthening power is five times more powerful than that of argan oil.
Prevents the appearance of wrinkles
Reduce expression lines
Gives strength, shine and radiance to hair
Helps repair and hydrate the skin
Strengthen your nails and recover their natural shine
Reduces scars and accelerates skin recovery
OmmBIO ® BARBARIE prickly pear seed oil is presented in a semi opaque 30 milliliter bottle with a dosing pipette for easy application of the product on your face, skin, nails or hair.
All OmmBIO ® products are of organic origin certified by USDA and ECOCERT. In addition, being 100% pure, they preserve their properties and repairing qualities unaltered in order to guarantee the maximum effectiveness of this natural cosmetic.